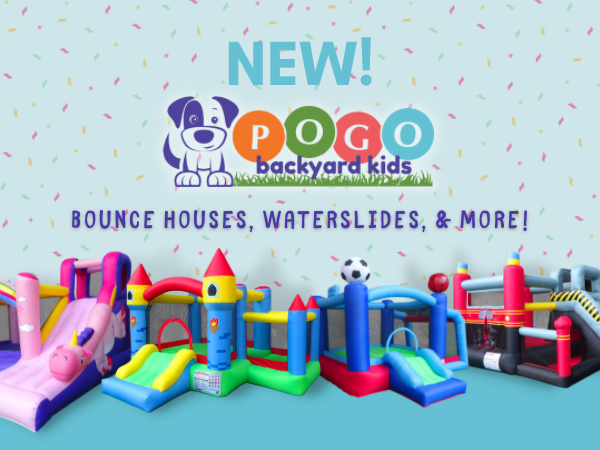 On Friday, December 3, 2021, Pogo Bounce House will release the first collection from our much anticipated Backyard Kids inflatable line of bouncy houses, water slides, and other home-use inflatables. We are using our extensive knowledge and years of experience as leaders in the commercial and crossover inflatable industries to transform the landscape of retail inflatables. 
So, What Makes These Backyard Kids Units So Special?
Like most department store bounce houses, Backyard Kids' bouncy houses are constructed from ultra lightweight, yet heavy-duty nylon. Inflatables like these can be purchased in retail stores and online for under $500. We use similar materials and offer comparable prices, but our superior attention to detail during every step sets Backyard Kids apart from our competitors. From manufacturing to shipping and customer service, we're setting a new standard for backyard inflatables.
Our line of crossover inflatables is enormously successful, but our audience made us aware that there was still a demand for high quality bouncy houses and inflatable water slides truly designed for use at home with younger kids. Potential buyers wanted the reliable reputation of our commercial and crossover lines but at an even lighter weight and more affordable price. We created Backyard Kids with the sole purpose of meeting those needs.
We've Got the Proof that Kids will Love Them Right Here?
Our product testers raved about the vibrant colors, sturdy-feeling construction, and easy use of the Backyard Kids products. One mom shared the following experience. "Before the pandemic, we rented an inflatable waterslide a few times a year. Our older kids loved it, but our four-year-old was too scared to go down it. My husband and I also hated trying to move it."
"Fast-forward a few months, we are still in a pandemic, and I am still stuck at home with my now five-year-old. At least we get to test the Backyard Kids Shark Combo, and let me tell you. Life. Changing. It's light enough that I can set it up, move it around, and take it down without my husband's help. Everything I needed was right in the bag, and I could not get my son off of it. I set it up on soft grass so he could use it with or without water in the pool. If you have kids under eight or nine years old, do yourself a favor, mama, and get one of these bouncy house water slides!" 
Whether you're shopping for the holidays, birthdays, or just looking to find a way to get your kids off their electronics and into the yard, our Backyard Kids inflatables are here to save the day. Choose from unicorn slides, firefighter fun, water slides and cannons, simple bounce houses, ball pits, obstacle courses, and more! We are so excited to bring these units to your family and help create childhood memories that will last a lifetime!
Buying a Backyard Kids Inflatable? Check Out These Articles, Too!
Organizing an Awesome Indoor Bounce House Party
How to Clean a Bounce House the Right Way
How to Deflate a Bounce House Properly