OUR BLOG
As experienced parents, we understand the excitement that Halloween brings to our kids. From costumes to candy and pumpkin carving, it's a time of pure magic. But, what about adding a Halloween bounce house to the mix? You might wonder if the crisp autumn air could dampen the fun. In this blog,---
Read Blog
Bounce houses, inflatable slides, water slides & commercial inflatables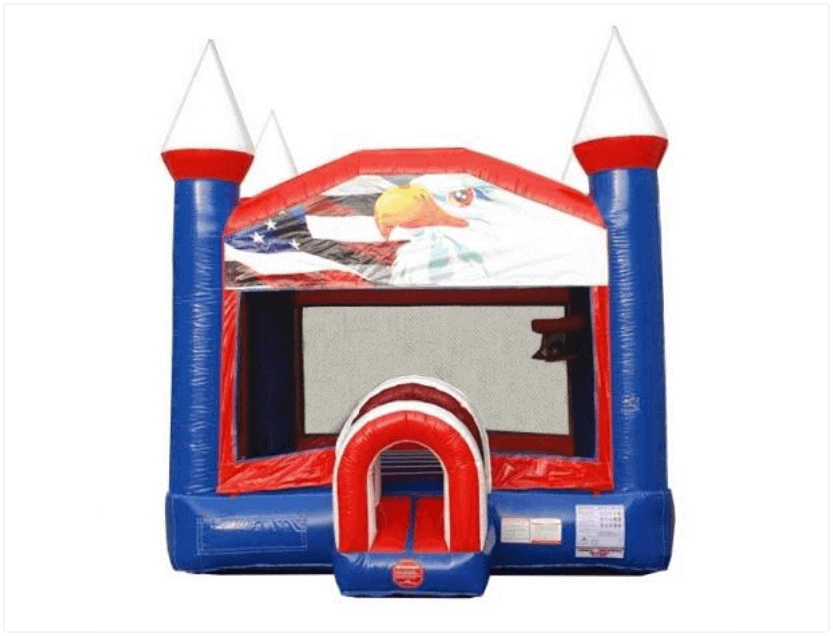 Pogo Bounce House—Your Fun Bounce House Experts!
What's better than a bounce house rental for a day? Owning a bounce house you and your family can use week after week, summer after summer. And that's what you'll get when you buy the commercial inflatables for sale here at Pogo Bounce House! At Pogo Bounce House, we pride ourselves on selling high quality inflatables, including bounce houses, vinyl crossover inflatables, inflatable water slides, inflatable games, obstacle courses, and more. Our products are unique, built tough, and ship with everything you need to get started, including air blowers, stakes, and more!
You might be a safety-conscious parent looking for an affordable crossover bounce house or a slip and slide for backyard use. Or maybe you represent a church group hoping to cornerstone an exciting fundraising event with a big inflatable water slide. Or perhaps you own a rental business and you're trying to gain a competitive edge over the other local companies in your area. Whatever the case may be, you'll find great crossover inflatables and commercial inflatables right here at Pogo Bounce House!
Leap Toward Quality with Pogo Bounce House!
Why take a step toward high quality affordable products when you can bounce toward them instead? With impressive deals happening on the regular, free shipping on orders over $39.99, and super easy financing options, making the move to Pogo Bounce House is a leap in the right direction … and that direction is up!
Pogo's professional staff of inflatables experts are standing by, ready to help you answer whatever questions you may have. Give us a call at 1-888-673-4273 and let us help you find the perfect consumer or commercial inflatables for your needs!
Fantastic Inflatables at Incredible Prices
Traditionally, there are two types of bounce houses and other inflatables you'll find on the market. Consumer grade products are affordable, but they're not built to withstand heavy usage. Meanwhile, commercial level products can hold up to weekly or even daily bounce house rental use, but that extra quality comes at significantly higher costs.
At Pogo, we pride ourselves on selling heavy duty, high quality inflatables that a rental business can rely on daily, with a build quality strong enough for parents to place trust in. And we sell our fun inflatables at prices those aforementioned parents and rental professionals can afford, too.
Unlike consumer grade bouncers made from nylon, the bounce houses, inflatable games, and inflatable slides in our Vinyl Crossover Inflatables collection are crafted with the same grade of heavy duty pure vinyl you'll find in some big commercial inflatables. In fact, some of our customers use our crossover inflatables as entry-level rental units (though they're fully intended for at home use).
How do we make our inflatables so tough? It's not just the heavy duty vinyl we use. We also reinforce high stress areas with heat welding and extra stitching, with slack at 90° seams to prevent common wear and tear. We use PVC ripstop material for our No Jump Top™ safety netting, as well as the other finger-safe netting we use on our bounce house walls and combos. From innovative design straight through testing our products in live inflatable rental environments, Pogo's staff is committed to ensuring safety and durability at every phase of development.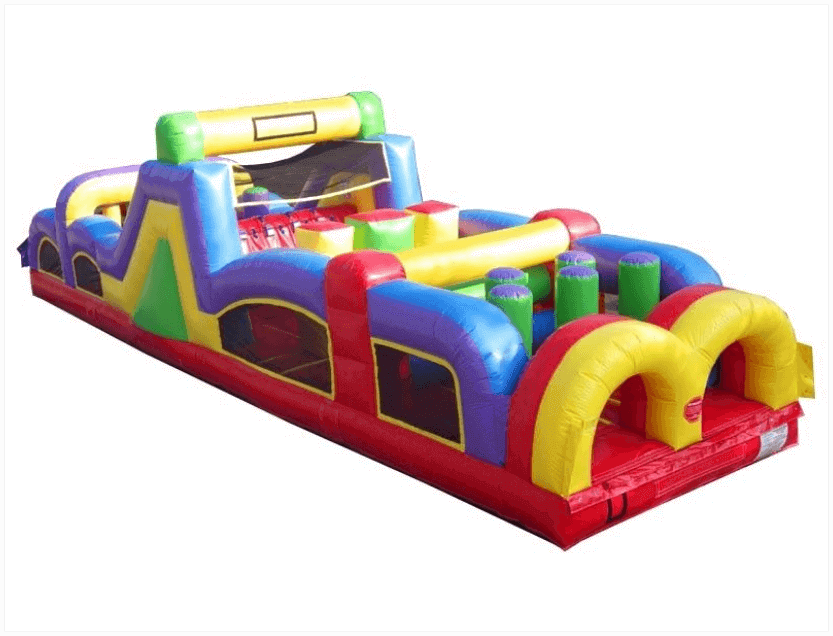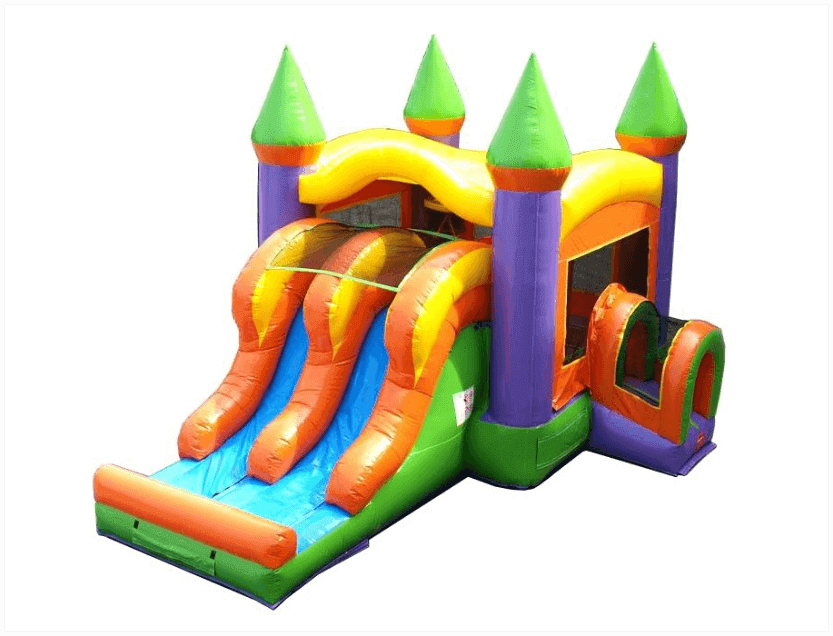 The Pogo Promise
At Pogo, our absolute highest priority is always the safety of the families using our products. It's why we use high quality, heavy duty materials and inundate our products with safety and durability features. Our primary goal is, and has always been, the safety of our customers and their event or party guests.
The Pogo Promise ensures our team does anything and everything possible to provide all of our products with the absolute highest level of safety possible. We go out of our way to ensure our inflatables follow ASTM and CPSC guidelines. They're lead and phthalate free, in full compliance with both the Lead Free Toys Act and California Proposition 65. And they meet or exceed NFPA 701 and CPAI 84 fire codes, too.
A Brief Note on Shipping Your New Inflatable Bounce House
We ship using Federal Express, USPS and LTL freight carriers. PLEASE NOTE: Pogo's flat rate freight prices quoted on the website REQUIRE a commercial address.
If your address is not commercial, then you will either need to choose a terminal or you can pay an additional residential/liftgate fee of $125 to have the order shipped to your home. Please contact us for more information if you have further questions about our inflatable bounce houses for sale.