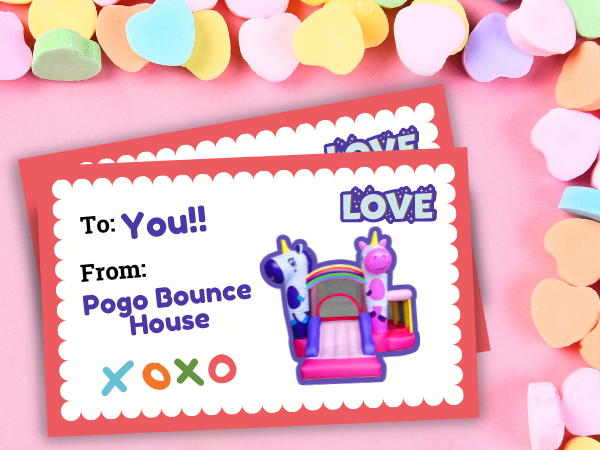 Candy, cute notes, tons of hearts, and did we mention…candy? National sugar-rush day…we mean, Valentine's Day, is around the corner. Here's how you can safely throw a fun outdoor Valentine's Day party for your kids and their friends in 2022.
Decorations and Playlist
Pinterest + any music streaming service. Those will be your two best friends for this step. Search boards for cute and affordable Valentine's Day decor-inspiration. Heart shaped balloons, easy pink and red garland…the options are infinite. Once finished, head on over to any streaming platform. There's a good chance you can find an awesome pre-made playlist for your party that will save you the time and effort or putting one together yourself. 
Fun and Games
We may be a bit biased when it comes to choosing party entertainment, but of course we're going to kick-start this list with, you guessed it, a bouncy house or slide! Whether the guests are under 5 years old or making their way through middle school, there's an option for all. 
For the younger attendees, we recommend grabbing a unit from our Backyard Kids inflatable line. These bouncy houses are lightweight with finger-safe netting to easily keep an eye on the little ones jumping inside. These units have a mix of ball pits, slides, and spacious areas for bouncing. Click here for some of our favorite bounce houses for a Valentine's Day party for children 5 and under.
For those who have older children, a crossover inflatable will meet your Valentine's Day bounce house needs. Any Crossover purchase is backed with our "bounce-ready promise," meaning the inflatable comes with a tarp, a safety mat, and everything you need to set it up…no buying individual parts. Choose from a bounce house, a combo unit, or a waterslide (if you're lucky enough to live somewhere that is still warm in February!). Check out our favorite pink and purple Crossovers here. 
Don't have room for a bounce house? Try an Air Frame Game! Unlike an inflatable, Frame Games take up little space and do not require an outlet to be constantly plugged into. You can blow it up and place it anywhere. Like we mentioned, they're small in width and length, but they come in at over 5' in height, so your little ones can still feel as if they have a giant game in their yard! May we recommend the Flower Power theme for this backyard bash?
To give kids a break from bouncing, set up a couple tables and chairs to create an arts and crafts station. There are tons of free printables to be found online such as Bingo, Tic Tac Toe, Valentine's Day themed coloring pages, and more. You could even consider getting a coloring tablecloth and putting markers or colored pencils on the table.
Candy Bar
Cupcakes, macarons, chocolate wrapped in pink foil...it wouldn't be Valentine's Day without the sugar rush and exchange of treats. Keep your child and their friends from touching all the candy and set up a dessert bar. Have each kid grab their own bag or plate, and have an adult scoop the candy from the jar into the bag or onto the plate. Everyone can have their own custom bag and, as the host, you can help mitigate the spread of germs. Win for the kiddos and a win for you!
End with an Outdoor Movie Night
What better way for your kids and their friends to end the day than watching a favorite movie together? There are many affordable projectors available online. All you need is somewhere to project the movie, such as the side of a house or setting up a light-colored sheet. Grab some blankets, pillows, popcorn and have them get settled in for a fun end to their Valentine's Day party.   
You've got the entertainment, the activities, the decor, and music planned out…now what? Get those invites out and start getting what you need to host the best backyard Valentine's Day party for your kids. While Pogo Bounce House can't come over and set up this party for you, we can help you get your inflatable or game in time. Start shopping now or give us a call at ​​(716) 566-5806 and one of our sales representatives would be happy to help. Happy Valentine's Day!
Other Blogs You May be Interested In:
Hosting an Indoor Birthday Party with Inflatable Games - Pogo Bounce House
Take a Break from Remote Classes with a Remote Recess!
Five Fun Fitness Games for Kids, Bounce House Style!